LED Dimming Waterproof IP65 1m2/18W
---
Sales policy
Free: consulting on designing energy saving lighting solutions.
Free: 100% of the cost of the product trial.
Free: City shipping. HCM within 10km.
Free: Suburban shipping with purchase of more than 200 sets
Warranty: from 3 to 5 years depending on the product
Maintenance: Periodic product inspection at the factory every 3 - 6 months.
---
Specifications IP65 Waterproof LEDs AMBEE Leakage:
Electrical Specifications

Capacity

18W

Voltage

100-240V / 50-60Hz

Power factor

> 0.9

Life expectancy

30,000h-50,000h

Optical parameters

Brightness (Lm)

1800 - 2100 Lm

Color Temperature (K)

2700K-6500K

Color rendering (CRI)

> 85Ra

Geometric Parameters

Size

1210x65x83 mm (LxWxH)

LED chip

2835 SMD high performance

Number of LED chips

96 Chip inside

Material

Polycarbonate body and lid, stainless steel ear, LED tube can be easily replaced

Guarantee

2 years

Origin

AMBEE-VN
* Made of LED single waterproof IP65 shade AMBEE: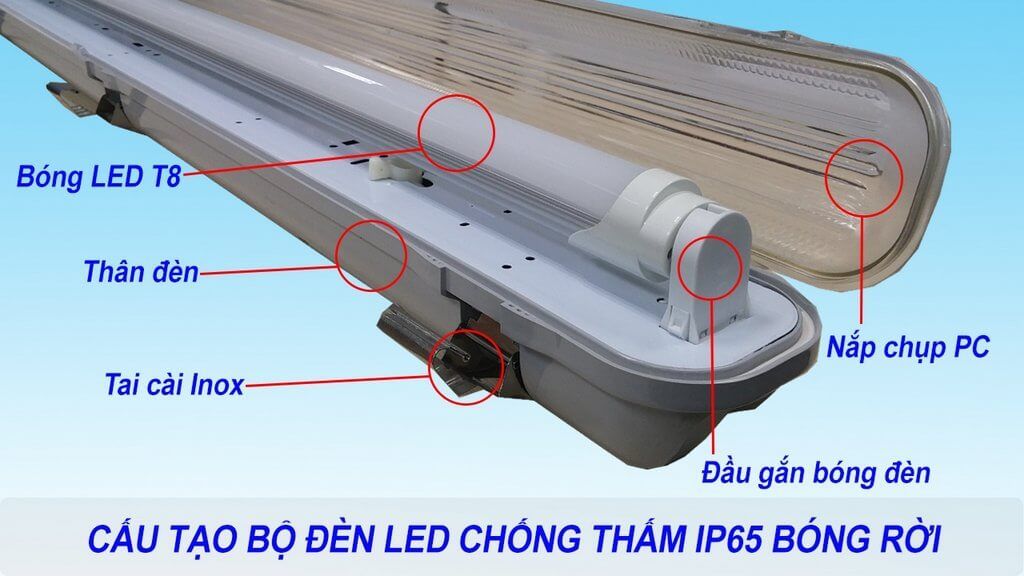 - Body and lid made of high quality polycarbonate plastic have good resilience, not crispy and high scratch resistance. Polycarbonate resins have about 300 times the resin durability and some other properties. Under conditions of operation in high humidity and temperature environments, some of the waterproofing products are stained yellow. AMBEE IP65 Waterproof LEDs with polycarbonate cap will minimize surface smudging and ensure brightness.
- Lamp holder: Made of stainless steel, corrosion-resistant and highly oxidized when working in wet environments, in some cases with high caustic environments, the ear can hold the lamp can be replaced with plastic ear. Advanced anti-corrosion.
- IP65 waterproof light bulbs are used in high quality LED T8 SMD 2835, with good brightness and stable operation when used continuously in the operating conditions of factories and factories.
>>> In general, with lightweight structure and manufactured with high quality materials, IP65 waterproof led flashlight is the best product for lighting operation in humid environment. and safe hygiene such as food, beverage, confectionery ...
* Advantages and Benefits of Led Lights Led Waterproof Ip65 Ambient Shadow:
- The lighting industry has spent more than 120 years developing from incandescent bulbs to fluorescent bulbs of all kinds and then for the first simple display leds. In light of the growing trend of technology and towards being friendly and protecting the environment, the advent of LED lighting technology is indeed revolutionizing today's lighting technology. Capturing the latest technological trends in the AMBEE lighting industry, the IP65 waterproof LED light bulbs feature high -performance SMD 2835 chips for high light output and long life.
The first point to mention is the ability to save electricity, LED waterproof IP65 AMBEE removable ball can save up to 60% compared to traditional waterproof fluorescent lamps. The T8 AMBEE LED is only 18W, while the T8 / T10 uses a 36W fluorescent lamp for T8 fluorescent lamps and 40W for T10 fluorescent lamps.
Next to the active life, IP65 waterproof LED ball light has a high operating time from 30,000h-50,000h. This ensures high economic efficiency because it saves maintenance and maintenance costs for the lighting system.
In addition, the brightness of the IP65 waterproof LED light bulb AMBEE is also a great advantage, the lamp is used T8 LED type SMD 2835 high performance chips, these chips are spread evenly along the body of the lamp to help. Light bulbs have high luminous efficiency.

- The special thing of the AMBEE IP65 waterproof LED bulb is that when the light comes on, it does not flicker and does not blink (no use mouse and zoom) as the waterproof light used. Traditional fluorescent bulbs, lights do not cause noise during operation and long-lasting luminous flux.
- Ambee tube lamps do not emit ultraviolet rays, ultraviolet rays and light materials that are recyclable, user friendly and environmentally friendly.
* Application of IP65 Waterproof Led Ambee:
- IP65 waterproof led flashlight with special structure and high quality materials, it is suitable for use in warehouses and production areas in factories such as seafood processing factory, processing factory pharmaceuticals, food processing plants, chemical processing plants or beverage factories.
- The IP65 waterproof led lamp is AMBEE type with power saving advantages and special structure so it is suitable for specific industries requiring waterproofing safety for lighting equipment.
* Installation Method:
- The IP65 waterproof light bulb is AMBEE designed lightweight and comes as an accessory kit so it is very convenient for installation, refer to the figure below for installation.