* Technical Specifications LED Highbay SS043 AMBEE: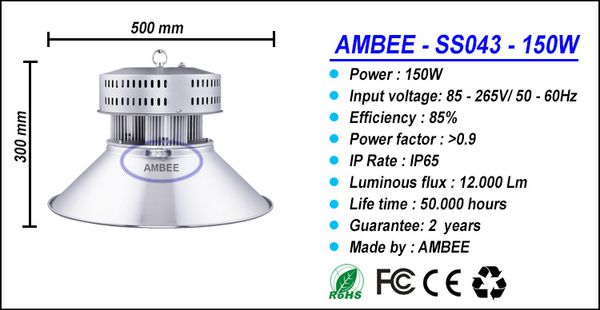 Structure LED highbay SS043 AMBEE:
LED Chip: high quality COB chip

Radiators: The radiator is made of aluminum with many small grooves. Each chip is fitted with a separate heat sink for quick heatsink.

Ballast container: Made of aluminum with powder coating

Ballast: Each power supply for a single chip

Headlight:
*

Advantages and Benefits LED Workshop SS043 AMBEE:
Energy saving of up to 60% compared to traditional high pressure halogen lamps Metal halide or Sodium.

Longevity: The SS043 AMBEE LED factory lights up to 50,000 hours while traditional high pressure lamps last only 8,000-12,000 hours.

LED lighting is better than traditional high pressure halogen lamps such as Metal Halide and Sodium, which distribute light intensity evenly.

Brilliant lighting with color rendering of Ra> 85 should be good for the eye, ensuring a more accurate color identity.

LED factory SS043 AMBEE does not emit UV, ultraviolet light, recyclable materials, friendly and environmental protection.
Commitment of AMBEE:
Free consulting design solutions for energy saving lighting.
- AMBEE is always ready to support free consultation and design to ensure the use of light sources effectively, saving maximum energy for your projects.
100% product trial cost support:
- Lending trial products, test samples from 1 to 3 months. Customers do not have to pay any costs.
Support shipping costs:
- Free transport in the city. HCM within 10km
Free suburban transportation if purchased over 200 sets
After sales policy:
- Check the product periodically at the factory.
- Warranty 2 years depending on the product. Only AMBEE products will be sold during the warranty period will enjoy the company's warranty policy.
If you have demand for LED highbay SS043 of AMBEE company please contact the following hotline for advice:0909.780.108