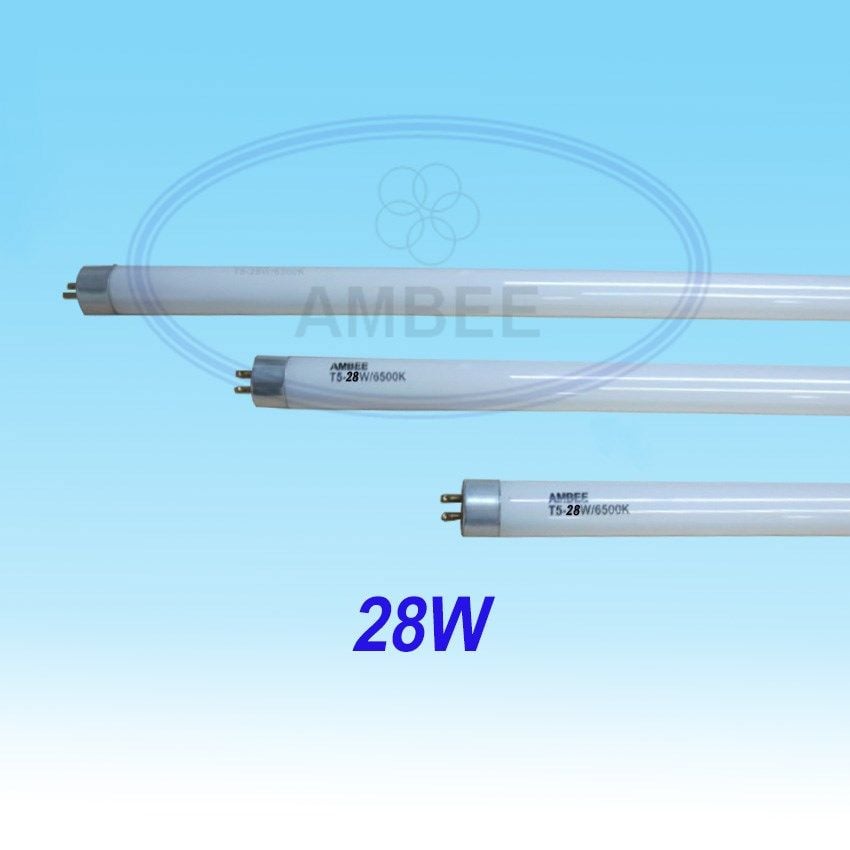 T5 Fluorescent Lamp 1M2 /28W
---
Sales policy
Free: consulting on designing energy saving lighting solutions.
Free: 100% of the cost of the product trial.
Free: City shipping. HCM within 10km.
Free: Suburban shipping with purchase of more than 200 sets
Warranty: from 3 to 5 years depending on the product
Maintenance: Periodic product inspection at the factory every 3 - 6 months.
---
Product Specificcation:

- Voltage: 220 / 50-60Hz
- Power: 28W
- Lighting: White, Yellow
- The color: 3000K-6500K
- Luminous flux: 1288Lm - 3500Lm
- Life expectancy: 25.000h
- Size: 1200x16 (LxD)
- Warranty: 1-2 years
- Origin: AMBEE-VN
Benefit of T5 Fluorescent Lamp AMBEE:

- Lamp lighting equipment is indispensable, however, the current majority in the factory-factories, schools, supermarkets, offices or households ... still are using fluorescent lamps type 0.6m T8 / T10 T8 high power consumption (18W) and T10 (20W). Therefore AMBEE has introduced T5 lamps with power saving benefits as follows:
- AMBEE T5 lamps save up to 50% compared with T8 bulbs / T10, so power consumption is very low bulb.
- Light bulbs brighter AMBEE T5 T8 / T10 from 15% - 20% should ensure brightness and light work good for the eyes.
- Also characteristic is particularly important T5 lamp life AMBEE about 25.000h (while the ball T8 / T10 10.000h and ball / 8.000h) and during lamp operation without lamp T5 AMBEE two heads like other lamps. With this special feature has helped AMBEE T5 bulbs superior product compared to conventional bulbs.
- AMBEE T5 lamps use tri-phosphate powder environmental protection. Today the community is moving toward the use of savings products and environmentally friendly, using T5 bulb AMBEE products contribute greatly protect our environment greener, cleaner and more beautiful.
Application Of T5 Fluorescent Lamp AMBEE:

- T5 lamps to save electricity AMBEE replace T5 fluorescent lamps are available on the market today.
- Replace power-saving T5 lamp is AMBEE optimal solutions and efficiency in offices, schools, hospitals, supermarkets, commercial centers, workshops, household ...
After – Sales:
-01-02 year warranty for lamp.
-02 year warranty for ballast.
-Free cost of transport goods in suburb with quantity over 200 pcs.
-Free consultant about energy saving solutions and insvesment saving calculation.